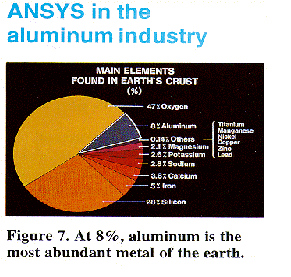 Aluminum is the most abundant metal of the earth. It makes up about 8% of the earth´s crust (Figure 7), third to oxygen and silicon. It weighs far less than other metal materials, resists corrosion, conducts heat and electricity, reflects light, and is non-magnetic. For over 20 years, major aluminum companies have used programs such as ANSYS to analyze and test their products. Aluminum is used in many different industries including aerospace, transportation, automotive, some electronics, and in many consumer products such as aluminum cans and baseball bats. The ANSYS program has many features developed or related to aluminum such as electric resistance heating, thermal-flow coupling, and magnetic capabilities.
Analysis of aluminum reduction cells
Alcan International, Ltd., is one of the world leaders in the production of aluminum and manufacturing of aluminum products. The company has been using the ANSYS program at its three research laboratories for over a decade. In particular, the Arvida

Research and Development Center (ARDC) in Jonquière, Québec, (Canada) has used the program extensively for the design of aluminum reduction cells with the help of CompuSim, Inc., an engineering consulting firm in Calgary, Alberta, and H.G. Engineering, the ANSYS Support Distributor (ASD) for Eastern Canada.
An aluminum reduction cell consists of a rectangular steel "open box", called a potshell, lined with refractory brick that surrounds the cathode carbon blocks. The assembly serves as the cathode in the electrolysis process and as a containment vessel for the electrolyte (also known as bath) in which the alumina is dissolved and for the liquid aluminum being produced. Carbon is used as the combustible anodes which are connected to an extensive network of conductors (bus bars) that provide the electric current to the cell. The operating temperature of the cell ranges between 950° and 970°C. Typically, 150 to 300 cells are connected in series to form a potline, and a smelter has one or more potlines.
The design of an optimal cell requires a thorough understanding of the temperature and current distribution in the cell in order to minimize energy requirements. Furthermore, stable operation of the cell requires a balanced bus bar system that reduces the Lorentz forces in the liquid metal generated by the strong magnetic field from the bus bar system. The design is further complicated by the interaction between the potshell and the cathode carbon as the latter swells from sodium penetration over the life of the cell.